Vorstand Opens New Hager Academy in Telford.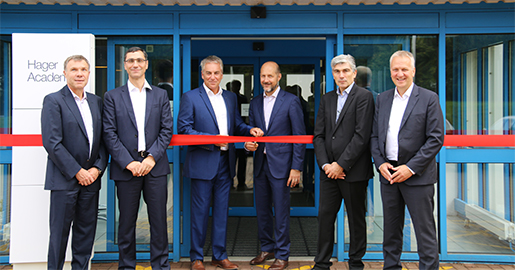 Pictured l-r: Philippe Ferragu, Franck Houdebert , Bruce Davies, Daniel Hager, Francois Lhomme, Mike Elbers.
Hager's Worldwide CEO Opens State-of-The-Art Training Academy at Telford
New learning facility to provide industry-leading 18th Edition training support for electrical professionals
Daniel Hager, CEO, Hager Group, has today officially opened Hager's new UK training academy at the company's Telford headquarters.
Following a six-figure investment, the training academy will offer electrical contractors the opportunity to boost their skills and knowledge, in particular around the mandatory introduction of the 18th Edition of the Wiring Regulations from January 2019.
Attendees will be able to make use of the latest touchscreen technology to offer an immersive and highly interactive learning environment, gaining certification in a number of City & Guild accredited courses and seminars led by Hager's qualified training team.
Hager's ability to work alongside and help prepare contractors at the new training academy so they better understand the changing regulatory landscape post-January 2019, is an important role for the company, and one it is investing in significantly.
Bruce Davies Managing Director at Hager UK, said: "We are delighted to have Daniel Hager here today to formally open our impressive training academy at Telford. Hager has a long-standing heritage when it comes to working alongside the industry to ensure electrical professionals have access to high-quality training. The state-of-the-art training facilities at the academy, combined with the expertise of the Hager training team, will ensure a fantastic training environment for all who attend in the future."
Ian Smith, Marketing Manager at Hager, said: "The development of the new training academy is the latest in a number of important initiatives the company has undertaken in recent months, led by our 'Regs Live' campaign. Alongside the development of our industry-first chatbot, 'Reg', the campaign is geared towards supporting the profession through a transition period as the 18th Edition is introduced."
For further information about the range of training courses available at Hager's training academy, including those specifically covering the 18th Edition of the Wiring Regulations, please go to www.hager.co.uk/18thEdition
Posted: 19th September 2018
For further information please contact: Hager Ltd, Hortonwood 50, Hortonwood, Telford, TF1 7FT. Telephone 01952 675675, Fax 01952 675557, Web: www.hager.co.uk, Twitter: @hageruk