Top Wall & Meter Tail Entry Plates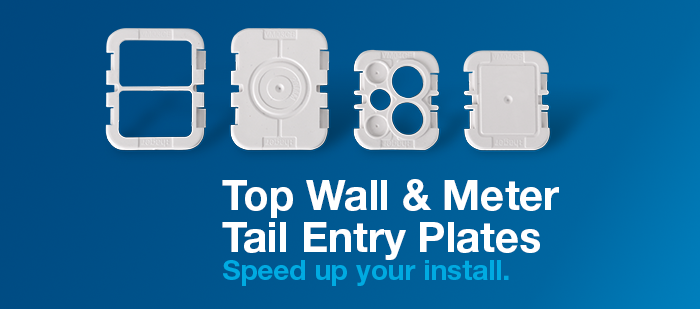 Speed Up Your Install
Our newly launched Top Wall & Meter Tail Entry Plates make cabling into the board easier and hassle-free, shortening installation times.
Cable entry plates provide a fast and simple solution to bring meter tails into the consumer unit, eliminating the risk of damaging cables and creating an untidy installation.
Our latest cable entry plate can simply be attached by removing the knockout on one of our
Design Range of Consumer Units
and clipping the entry plate into position.
The meter tail entry plate is available with openings for two 25mm² meter tails and a 16mm² CPC. There are extra positions pre-marked to allow the entry of extra earthing if required.
A 30mm*25mm blind grommet is also available to be used if a knockout has also been removed in error, this can be drilled out to allow for cable entry and can also be used with 50mm*50mm trunking.
The top wall entry version of our new cable entry plate allows for cable to enter through a 30mm*40mm knockout and can achieve an IP4x rating when used with 50mm*50mm trunking.
Our Top wall and Meter Tail Cable Entry Plate is also available as a blind grommet, this is moulded to allow a 20mm hole saw to be used to create an opening for a 20mm compression Gland. The back of the plate is designed to secure the lock nut position allowing the gland to be tightened. It is ideal for occasions where a knockout is removed in error.
When using these cable entry plates, the IP4X needs to be maintained if used on a top wall whilst IP2X needs to be maintained if used on the bottom.
All cable entry plates have undergone through fire testing in line with all of the Design range consumer units and passed the test.
Starting in January, we'll be including as standard in every Consumer Unit with square knockouts one Meter Tail Cable Entry Plate (VM04CE).

Posted: 24th January 2018
For further information please contact: Hager Ltd, Hortonwood 50, Hortonwood, Telford, TF1 7FT. Telephone 01952 675675, Fax 01952 675557, Web: www.hager.co.uk, Twitter:
@hageruk