Hager launches Bitesize Guide to support electricians with 18th Edition of Wiring Regulations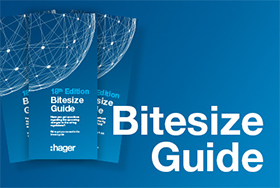 With 1st January 2019 less than a month away, Hager has launched an online bitesize guide in order to equip electrical contractors with the answers to any questions they may have regarding the upcoming changes to wiring regulations.
The mandatory introduction of the 18th Edition of the IET Wiring Regulations concludes over 12 months of preparation. During this product manufacturers and electricians have worked to ensure they are up-to-speed about the impending changes required for compliance.
As part of Hager's ongoing commitment to the industry, the bitesize guide, which is available to download for free at www.hager.co.uk/18thedition, covers questions surrounding existing installations, protection against electric shock and transient overvoltages of atmospheric origin and support of cables against premature collapse, amongst others.
In addition, the bitesize guide also outlines all the major changes in the new regulations, including handy diagrams and illustrations to help on project installations and explanations of new responsibilities for electrical professionals.
The guide is the latest installation in Hager's wider Regs Live initiative to support the industry ahead of the changes. Earlier this year, Hager launched its automated chatbot 'Reg' who has been busy answering thousands of questions and queries from the UK's electrical community as it looks for guidance on important areas such as product specification and installation methods. So far, the most frequently asked questions look at surge protection, overload protection of devices, the selection of appropriate Residual Current Devices (RCDs) and the selection of devices incorporated within an assembly.
With the release of the 18th Edition of the wiring regulations, Hager is on hand to support electrical contractors with any questions they may have. This includes the introduction of a number of training courses, accredited by City & Guilds, covering all the major changes in the 18th Edition. Furthermore, Hager's team of experts will also be taking to the road through the coming months at ELEX shows up and down the country to help ensure all electrical professionals have a working understanding of what will be different once the new regulations come into force.
Posted on: 12th December 2018
For further information please contact: Hager Ltd, Hortonwood 50, Hortonwood, Telford, TF1 7FT. Telephone 01952 675612, Fax 01952 675557, Web: www.hager.co.uk, Twitter: @hageruk