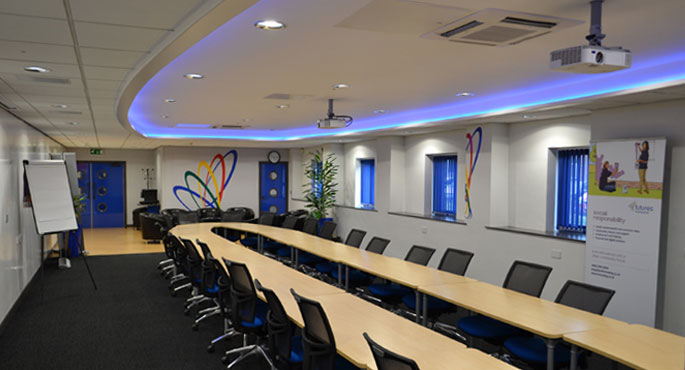 Tebis KNX Provides Community Flexibility
Our Tebis KNX bus system has provided a flexible lighting control solution for DALI addressable LED lighting in a large multi purpose room at Futures Housing Group's headquarters.

The 130m2 room is used for meetings, a number of community events, training by the housing group and is hired out to other organisations. Futures Housing chose DALI addressable LED fittings from Fosnova as part of its green agenda to save energy.

As a multi-purpose room, Futures Housing needed a control solution that could set different lighting scenarios and was easy to understand. The KNX solution from Hager offered flexible control and easy installation. The wireless controls need no cable runs and can be stuck anywhere on the wall. Using KNX the wiring accessories offer both preset scenes and diming control.

Users can choose from fully on, fully off, dimmed right down for a movie or video, partially dimmed for a presentation where people want to take notes, and dimming up or dimming down control by the user.

In addition to the control inside the room, Futures Housing has also opted for a master switch outside the entrance to the room. This either switches all of the lights on or off as you enter or leave.
Videos