Why Klik LCM will strengthen your next project
Klik's Lighting Control System has many benefits for your next project. David Evans explains why you should choose Klik LCM.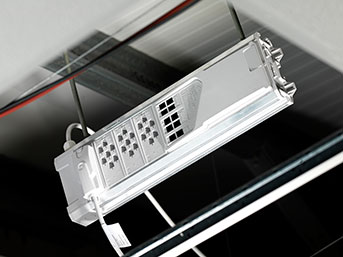 When choosing the best lighting option for your next project, you ultimately want a control system which will save energy, money and time.
In the grand scheme of things, you want what's best for the end user. A system which uses minimal effort to control, saves energy and sees a return of investment.
That could be easier said than done, but designers need to take all of this into account and achieve an array of goals whilst creating an electrical ecosystem which can support the building it inhabits.
To help create this paradise, lighting controls can be used to provide a high quality energy efficient system, layered throughout the building, and becomes a smart and easy to use product. Add pluggable lighting connection and the benefits increase.
Designers need to think about the usability. How simple will it be to install? How easy will it be for the user? Can it easily receive service and maintenance? Can it be easily adapted for future needs? It's fine to suggest that an all singing and dancing system can be put into place, but in reality all these steps need to be considered.
If you're looking for something that does everything that it says on the tin, you might want to look no further than the Hager range of Klik control and connection solutions.
So, how can Klik help?
Save time
Klik helps you save time right from the start. In the design phase, our dedicated technical services team provides assistance in helping to put the right specification together.
Compared to traditional fixed wiring, Klik lighting connection can deliver up to a 70% reduction in labour time. As a fully pluggable pre-fabricated wiring system, it has been proven to also save up to 50% of time on site.
Hager occupancy sensors and the Klik lighting control module offer easy to programme functions that negate the need for specialist commissioning.
Don't just take our word for it, check out our case study of how Burgin Contracting were able to save time when
installing Klik's 7 Pin system in prestigious offices in London.
All from the touch of a button
We're all on our smartphones and tablets these days so it makes sense to have the power to control the lighting in your building with the touch of a button.
Klik LCM is programmed via the
KlikLink App
. You can control and tailor your lighting experience all via the power of the little black screen.
Lighting when it suits your building
The reliance on your lighting and their energy efficiency performance will vary throughout the year.
Klik LCM allows you to quickly and easily re-programme your lighting system as your building needs change. Allowing you to implement energy efficient savings when they're needed the most.
Kilk LCM can also be modified to grow when your building grows. The system can scale up to meet the needs of your structure so you will never have to remove and implement new products if a few layers are added.
Reactive environments
Klik has a nifty little feature when it comes to its LCM – Occupancy Sensors.
Our sensors can help remove the need to control your lights manually. The strain of having to lift your hand and press your finger down on a button could be a thing of the past.
However, the real benefit here comes from removing the human element of control and through the automation of your lighting you can see a significant reduction in the amount of energy you use, and ultimately money.
Occupancy sensors can be set to automatically switch to off when the area is vacant through the
absence and presence control
. Beam me up Scotty, it's just like being on the Enterprise.
Find out more about how you can benefit from Klik right here.