The year ahead. An electrical outlook for 2017.
What could the following year bring for our industry and what changes could we see happen? Hager's Darren Palmer discusses the trends we could expect in the electrical industry in 2017.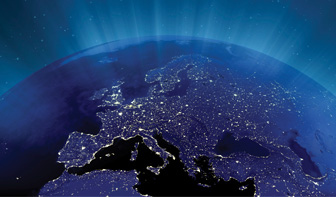 It's that time of year again where we like to gaze into the future and look at what could be the likely key trends for our and other wider industries this year.
Brexit
is currently causing much uncertainty and; of course, this has some merit given Theresa May's intent to trigger Article 50 which will begin the UK's disengagement with the EU. Adjustments to a new economic environment could start to develop during 2017 with signals to the market becoming more important as an indication of where the future commercial trading parameters will be drawn.
In terms of construction, at least for the commercial sector, the key phrases are 'uncertainty' and 'risk aversion'. The private residential sector is set for some stability this year as the market remains buoyant on new builds and credit remains largely accessible for taking out mortgage loans.
Offices look exposed to uncertainty as interest from foreign investment cools and UK business investment becomes more cautious. Hotels could see a boost in activity given the drop in sterling relative to other major currencies meaning the UK becomes a more attractive destination. Retail is likely to experience a bittersweet year as inflationary prices increase and reduced real incomes balance out the elevated spending from overseas tourists, particularly on high-end items. Education is one sector where projects look more of a safe bet as Government spending and an increasing population will uphold the demand.
For the electrical industry, will 2017 be the year that the
Internet of Things (IoT)
and
building automation
truly breaks into the mainstream? Certainly, the falling price of technologies related to 'IoT' will help to win over the sceptics, as will the leading mainstream builders or construction firms adopting the technology and fitting it as standard rather than it being an exclusive high spec finish.
BIM already has a foothold in being an integral part of some construction projects and one can be reasonably sure that 2017 is going to see continued digitisation taking place across the sector.
Although they only make up a small percentage of total overall vehicle sales, electric vehicles are now making their presence felt. Businesses like Tesla along with many other manufacturers such as Nissan are benefiting from increasing interest in electric cars and thus, more charging facilities will be required. It's likely that this momentum will continue to grow as more and more people opt for electric rather than traditionally fuelled vehicles. Interest is also going to increase when the year enters its later stages as attention will start to be given to the BS 7671 18th Edition Report which is due to be published on 1st July 2018.
In summary, there are indications that 2017 will mostly see a risk averse position taken by businesses as they try and interpret the notion of both the EU negotiations and the impact of inflationary pressures on their operations. Construction is most likely to experience only modest overall growth this year with fortunes varying between the residential, commercial and infrastructure sectors.
Finally, new technologies and digitisation are going to be something electricians will need to think about in the coming years and how they can best leverage their existing skills and knowledge to harness the potential these innovative products and systems can provide.