The Future Connected
Alex Carter from Durable Technologies predicts a future where connectivity and access to shared information via the internet will be the norm and not the exception for lighting control systems.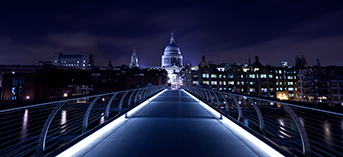 Like everything else, the world of lighting controls never stands still, subject as it is to ongoing innovation and technological developments, continuing to push the product performance envelope in response to market demands.
A good example has been the development and impact of LED solutions over the past few years. This has seen this lighting solution come of age so it occupies a market position today where it delivers in performance and reliability and, also offers value for money on lighting installation projects.
However, its emergence as a favoured solution has also led
to the increasingly common practice of specifying separate control systems for main and emergency lighting requirements. As a consequence, this has generated increasingly complex and complicated systems providing tangible cost and resource issues, for example concerning system maintenance needs.
While the benefits of LED are accepted and here to stay, nonetheless the move towards increased complexity will, in my opinion, be ultimately resisted and methods will be found to ease the burden on installers and building users. Hager's development of Bluetooth and App tools, such as the
KlikLink App for Klik LCM
, to help simplify the control of systems and drive down cost implications are a welcome move in this direction and is gaining real traction in the market.
In the future, I can foresee that both main and emergency lighting controls will, once more, converge and be re-positioned to deliver more reporting-led benefits, as opposed to just simply controlling.
This will translate in practical terms to building occupiers using tablets and other devices to tailor the lighting experience within buildings, such as adjusting light levels, while in the background third party maintenance companies or facility managers can access the type of system performance information to aid their day-to-day responsibilities. It's the availability and sharing of information from lighting control systems that will help drive the next step change for the controls sector.
While current discussions around the delivery of power over Ethernet has certainly caused some debate, the colossal task of re-engineering buildings to adopt such solutions makes it impractical, costly and, frankly, unrealistic.
However, there is much more optimism linked to the possible benefits that 'the Internet of Things' can deliver. Simple, IP-based technologies that are able to exchange and make use of information easily will, by the early part of the next decade, be a leading driver for lighting control system enhancements.
At the core of this innovation journey will be the ability to access, gather and share information across the internet between multiple parties, each with a vested interest in the operational efficiency of a building. Occupation data for building managers, information around heating and cooling demands to inform building management system decision-making, and security-related issues around presence detection, will all be feasible in an integrated fashion with building (and lighting) controls working in harmony, not as dis-jointed separate entities.
The benefits of such a future are clear to see, with all stakeholders from system designers, contractors, building users, facility managers and maintenance teams having the ability to derive and use the information they require from a reliable and shared source.
While these advancements could still be a few years away, the pace of change and technology development around lighting control capabilities will ensure the drive for a more connected, information-driven future, which turns inspired thinking into practical reality.