The exciting possibilities of building automation
A building which thinks for itself? Building automation is becoming more of a reality by the day. We explain what you need to know about building automation.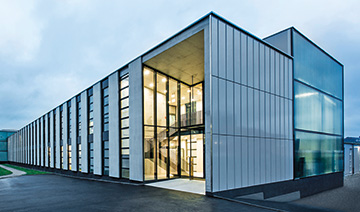 For many years' science fiction films would predict a world where every function of a building would take care of itself without you ever needing to lift a finger. In recent years, this technology has actually become a reality. Building automation systems such as our own
Tebis KNX
can be easily integrated into a building to control heating, lighting, security, entertainment and numerous other services throughout a building through the use of switches, sensors or even a smartphone or tablet.
In addition to intelligently controlling all aspects of a building, building automation can provide the end user with reductions in energy costs, thanks to providing enhanced control and automation over energy usage.
But ultimately the advantage of a building automation system is in the name. Your building has the potential to become a self sufficient machine, learning from your habits, and adjusting to meet the needs of your everyday life.
What is building automation?
In short, building automation takes control over different aspects of a buildings infrastructure such as lighting, heating and ventilation systems.
When a building is controlled by a building automation system, you might hear it being called an 'Intelligent' or a 'Smart Building'. You may also hear different terminologies being used, such as BMS (Building Management System), BCS (Building Control System) and BAS (Building Automation System).
The idea of a building automation system, in particular in regards to the digital controls for HVAC systems, can be traced back
all the way to the 1700's
where inventor Rene-Antoine Ferchault de Reaumur had the idea of temperature control for incubators following an invention from Cornelius Drebbel. The technology has developed significantly throughout the last century into what we have today.
What is in a KNX building automation system?
All building automation systems work using inputs and outputs. Analogue inputs are used to read measurements, such as temperature or light. Where as digital inputs are used to turn settings on or off. For example, turning on a light if a photocell detects that it is dark outside. These are then connected via a bus cable or radio frequency (RF) which allows all of the devices to communicate with one another.
Building automation can accommodate an array of additional systems, such as digital signage and security applications. However, these systems need to be integrated into a single network so they can all share information. Traditionally, these systems often had different types of data standards and protocols, making integration more complicated. However, that's where KNX comes in.
KNX allows for a series of devices from different manufacturers to communicate together in the same language and can all be monitored and managed through one installation bus. Being centralised in one system allows KNX to be flexible, so changes to components are easy to carry out. This unified communication is achieved thanks to KNX's open protocol. This protocol allows the devices from these different manufacturers to all talk to each other on the same network, without the need for different systems or special installations to take place.
What does the future hold for building automation systems?
Thanks to the development of the
Internet of Things (IoT)
we will see more fully automated buildings which require less or even no interaction from the end user.
According to
GreenTechMedia.com
, large companies are working closer together to help develop products and services. Hager are a part of the
'Allseen Alliance'
. A group of global players and innovative start-ups working together to develop the standards for the Internet of Things.
As different products will communicate in different ways depending on their creation and development, these partnerships are key to help produce solutions which can work for all systems.
The technology for machine learning is also developing. Building automation systems learn from your habits and routine and adapt to your needs. For example using your GPS location, these systems will be able to recognise where you are in relation to your building and determine whether functions need to be turned on, at what setting or if they need to be shut down. Building automation systems are becoming more customised to you.
As technology advances and awareness increases, don't be surprised if the demand for building automation systems rises and becomes the norm for your day to day working calendar or even your most specified solution.