Putting ourselves to the test
Did you know that Hager has its own laboratory based in Telford? David Evans shares five things you might not have known about our product testing process.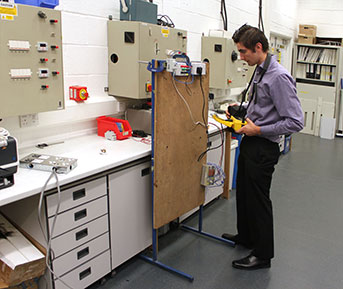 Here at Hager we're dedicated to making sure that our products are up to the 'test'. From installation to everyday use.
By putting our products to the test, you can be rest assured that you're in safe hands.
Here are five things you may not know about our validation process…
1. We have a ASTA recognised laboratory
We have an ASTA recognised laboratory at our site in Telford and this represents the major investment that Hager UK has made into quality and testing. 
The facility is an Intertek RTL level 4 ASTA recognised Laboratory which is certified against the relevant requirements of BS EN ISO / IEC  17025 and has within its scope of recognition the ability to carry out ASTA Type / Verification Testing in application for ASTA certification, and we can provide our customers with an independent compliance certificate. 
The key feature of ASTA Type Testing and certification is that it provides objective evidence that the products verified are compliant to the relevant product standards. All test reports and certificates are verified and issued by ASTA in the UK. 
2. All of our products get the same test treatment

It's not just about validation testing to the required standards, its about going above and beyond. We think about how the whole product will be used, not just individual components.

In our procedures, we validate our products as a finished item. This is to make sure that the performance of the product as a whole isn't affected. We're thinking beyond it's everyday use and what built-in components could be affected.

3. We help our customers with potential issues

Having an on-site laboratory also gives us a major advantage when it comes to trouble-shooting.  If there is a potential issue, we can test and resolve problems immediately.  This is a service we can extend to customers, who are able to ask for test reports in situations where they have encountered a problem. 

That's just good customer service right there.
4. Our tests design our future

By continually testing our products, we can anticipate what problems might occur before they even happen. We look at how the product will be used and fitted, see what issues could occur and put measures in place to prevent it.

While validation and/or testing are often perceived as the last stage of the production cycle, at Hager we use the experience gained in the laboratory to influence our product development. 

Not only is the information we gain during these procedures fed back into our design teams, but the laboratory team also works closely with designers to ensure that we build in quality and safety from the very start of the design process. 

This influences everything from the materials we use to the assembly processes and, with our own in-house facilities, we are able to run compliance-style tests on products in the prototype stage. The difference being that we assure quality from the start rather than test for it at the end. 

5. We can have third party totally independent testing included

We don't just validate all of our products.

The validation/testing of our electrical accessories are also verified by Nemko. A world respected third party company.

You can be rest assured that when you receive your Hager product, not only has it been through a rigorous validation or testing procedure, it has also been checked over by an independent body.