LED Lighting is changing the industry and you need to be involved
LED Lighting is continuing to grow and create an impact on the industry. Commercial Market Manager Steve Dyson explains more..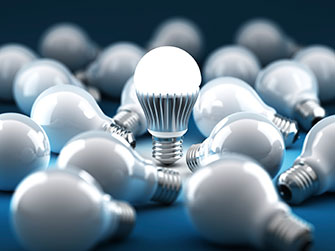 It is becoming increasingly clear that the recent explosion in the light-emitting diode (LED) lighting market is set to continue, and to evolve, with studies by AMA Research (AMA Report) and
McKinsey
both predicting huge growth in LED sales and usage.
This view was echoed at the
Electrical Review Smart Lighting Summit
and is hardly surprising, given the significant energy cost savings, lower cost of ownership and reduced CO2 emissions that are associated with this new lighting technology. While industrial sectors such as leisure and health have been early adopters of LED technology, there are now clear signs that retail, office and other industrial use of LEDs is also expanding.
A key challenge for lighting installers, therefore, is to maximise energy savings by integrating the benefits of LED with the ease of use and energy-saving qualities of modern lighting control systems. Fortunately there is technology available to help to make this a straightforward process.
According to research (AMA Report), the UK LED market was worth around £330 million at manufacturers' selling prices in 2013. However, legislation and energy concerns are now combining to fuel explosive growth in the sector, including in the mainstream and domestic markets.

Manufacturers are focusing a great deal of energy on producing replacement and retro-fit LED products, which has the benefit of allowing installers to use LEDs with installation and control systems that are already optimised for energy saving.
Recent economic events, such as the strong pressure on public sector and industrial organisations to dramatically reduce their costs, along with growing awareness of environmental issues, have greatly affected the electrical installation sector.

Lighting has been particularly affected, because it often represents a large proportion of organisational energy use. For example, according to figures provided by the Chartered Institution of Building Services Engineers (CIBSE), lighting accounts for 63 per cent of total energy expenditure in the health sector, while for education the figure is 51 per cent.

Thus, energy saving initiatives that are linked to lighting represents a very considerable, highly attractive and potential saving for end users. What is more, new and relatively new technologies, such as LED lighting, allow those users to combine financial savings with beneficial effects for the environment.
Given that new lighting technologies are, historically, uncommon it is fortunate that the current boom in LED lighting is taking hold just as the need for energy saving solutions has become so acute, and that LEDs can be combined with systems that integrate cost- and energy-saving benefits with the very latest in lighting control technology.