Forms of Segregation - What you need to know
Are you looking to find out more about the meaning of 'Forms of Segregation'? David Evans helps to break it down for you.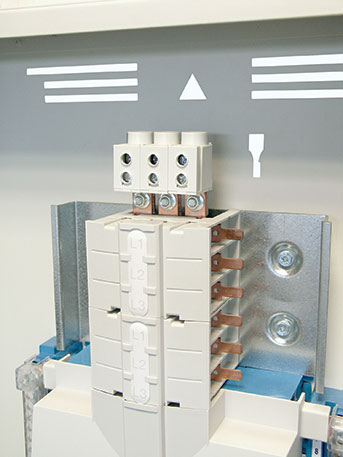 When it comes to distribution boards one of the terms you may have heard banded around is 'forms of segregation', also known as 'forms of separation'.
If you've heard this being used and don't want to let on that you don't know what it means, don't fear, Hager are on hand to help break it down.
A distribution board holds many safety features to help protect the installer and the use of segregation is one of them.
Segregation in a distribution board is a type of barrier used inside the board as a safety method to separate the busbar, components and wiring from each other depending on the nature of the unit.
A separation inside the unit can be a cover, an enclosure or insulation around the busbar to separate the functional units and live parts of the board. This way the installer can be protected against being in contact with live parts or creating an arc fault.
Each layer of separation is called a 'Form'. These forms will start from 'form 1' and can go up to 'form 4a' and '4b'. For example, in 'form 1' there is no segregation between the busbar and the functional units. Everything is housed together.
Once you work your way up to form 4a and 4b, the outgoing terminals for each functional unit are separated, providing a high level of safety for the skilled electrician.
The size of the unit will be a factor to how many separations are in place. Usually the higher the form of segregation, the bigger the unit. However, these barriers can take up space within the unit so this can impact on the size of the product that is used.

The level of segregation is determined by the electrical contractor, specifier or the application and the layers of segregation included will depend on which parts of the board you need to access. For example, hospitals, petrol chemical plants and financial institutions may require a board with a high form of segregation, eg. Form 4 Type 6.

If a functional unit needs isolating, it allows the electrician to work on the main distribution board while the rest of the board is live and while the safety interlocks are in place.
However, if you need to access the cable terminals to a function unit, these forms of segregation will need to be in place for your safety.
Here at Hager we provide
TPN Board
and
Panel Boards
at form 2A and these can be easily upgraded to form 3A by fitting terminal shields to the outgoing devices.
You can find out more about forms of segregation and the different types of forms available
here
.