Electrical apprenticeships and the future - A tutor's view
What is involved in a electrical apprenticeship and what could the scheme look like in the future? David Evans sat down with a tutor from a leading electrical training provider to find out more.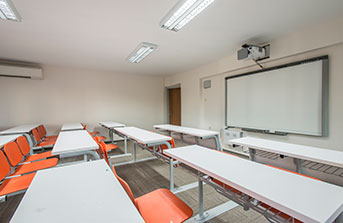 Apprenticeships and training is vital in creating the electrician of today and for tomorrow.
Based in Birmingham,
The EEF Technology centre
is a leading electrical and manufacturing training provider. We spoke to Adrian Knight, a tutor at the centre, to hear his thoughts on apprentices today and the future for training in the sector.
How has the electrical sector changed in the last twenty years?
"I think the electrical world has changed quite a lot. Installation work is changing quite a bit and for industrial work there is more of a demand for electrical work because of multi-skilled engineers. Especially with industrial work there is more of a need to be more efficient and to fit LED Lighting, sensors and the need to save energy."
What is being taught now? What does a course look like?
"We will always start with the basics and build up people's knowledge, like adding building blocks. For example, basic installation practices and how circuit breakers work.
We then start to teach good habits such as continuity of earth, emphasising the important things and getting them used to the logic of how things are wired. It's always good to start at the bottom and teach them the testing. They need to be confident that before they switch anything on that it's all working and it's not a danger.
Like many colleges, our apprentices will learn the installation side of things first"
Do you teach new products that are brought onto the market?
"Yes but what you have to be mindful of is that you have to teach to the Electricity at Work Act but any new technology we try to introduce it."
What do you think the electrician of the future will look like?
"I think that they will have to know everything that they know today but they will also need to know more about smart meters. With everything being controlled via a mobile phone or an app they will need to know more about how to use these. They will need to be more IT savvy.
They will also be looking at the future of the home and building automation. To get everything to work they will need to know how to wire in sensors and other devices."
As technology and self-diagnosis systems develop, do you think there will be less demand for an electrician to find and solve an issue?
"I think it will be different, I don't think it will be less.
You may be told what the fault is, but it's how you go about fixing it. You've still got to know how to fix the fault. The human element of investigating, testing and fixing a fault will still be there but I believe it will be different in the future rather than their being less demand on the engineer."
Do students still carry out their own self-learning? Is it still an important part of learning to be an electrician and do you think it will still be an important factor in the future?
"They do but it is also down to their own character and how interested they are.
The internet is a great tool. Even as engineers, you can't know everything. Sometimes the students will ask us a problem and we will say 'You go away and see where you can find the answer to that problem.
Part of the apprenticeship is problem solving. If they have a problem, who are they going to speak to? Or where are you going to go to? Part of this role is being able to up-skill yourself.
We try to teach them that once they go back on site, if they don't show enthusiasm, people won't show enthusiasm in them but if you go back and ask the right questions and have the right attitude, you will progress quicker and people will be willing to teach you.
When you're in this environment you can't really replicate the pressures you will have in the real world because they have the support here. When they get out there, can they make the right decisions to do this themselves? This is what you have to build into them.
In the future they will still need that drive and determination to learn."
Is there a danger that the information available on the Internet could prevent students from developing their own self-learning?
"It can give them the answers but the key is what they do when it doesn't work. You've got to have the knowledge and experience to understand how something works and know how to repair it.
If you don't understand the principals of what it's doing, what's in there and how it works you won't be able to solve the issue. We might have all this great technology but you still need to know how things work"
Do apprentices come to you and ask to learn about new technology that they might have seen?
"Everyone who works here has a variety of experience but if there is something that we don't know, we can go and find out.
If we can help our students, we do. We will sit down and work it out with them and that's the best part of the job. When a student comes in with something you both are unsure about, you learn together."
The electrical sector is stereotypically a male dominated sector. Are you seeing more females taking up apprentices and do you think this will increase in the future?
"Yes definitely. We find that more women are taking up engineering. We're not getting as many female apprentices as we would like but the women we have had come through and who are currently learning here are very good.
When coming into this environment, women are not looked down on but looked up to. They have made the decision to come into a trade which their gender is not usually associated with and it shows that they really want to learn this trade. That's why they're so successful, because they apply themselves more."