DALI and DSI - What you need to know
Are you unsure about your DALI's and your DSI's? David Evans is here with a simple guide to lighting control.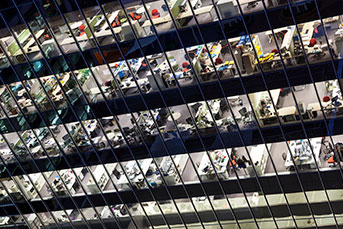 The use of lighting controls is becoming more apparent by the day.
If you're a bit confused about the differences between a DSI and a DALI and you don't want to let on, we have the answers so you can join in on the debate.
What is Lighting Control?
Best to begin at the start.
'Lighting controls' allow you to set the amount of light being displayed in any given room. Allowing the user to decide how much light is used at any given time.
The lighting control is part of a 'Lighting Control System'. The system can be a centralised control; an intelligent network which is either run through a computer or is automated and connects to all the lights in a building or distributed control; a local control in a room or group of rooms rather than the whole building.
Products such as occupancy sensors or dimmers which connect to this system allow the user through these controls to set when these lights are on and off.
Lights can be turned on automatically when an individual walks in, off after a few moments when someone has left and can remain off if it recognises that there is enough natural light from outside to light up the room.

This intelligent way of working helps businesses to manage their energy consumption and save money in the long term and you can understand why more and more buildings are being fitted with these beneficial networks.

Now that you know what Lighting Control is, let's dig a bit deeper.
What is DSI?
DSI, or 'Digital Serial Interface' if you need the long version, is simply a protocol for controlling the lighting in a building. DSI has a digital signal, consisting of 8-bit information, which communicates with the control modules for lighting.
A DSI device is connected to a controller through one wire so individual units can be programmed to the users needs.
What is DALI?
DALI, or 'Digital Addressable Lighting Interface', is an evolved version of DSI.
Once again a protocol, the difference being is that it can help multiple products from different manufactures work together. The user can implement multiple devices through one control and set how the individual units will work through one system.
Allowing devices to work together could thrive even further with the development of the
Internet of Things.
Which one should I choose?
Choosing between DSI and DALI will depend on the type of project you're working on but there are some differences.
Firstly, don't mix these systems together. Why? Well each device has its own language. It may understand the odd request here and there but ultimately they won't understand everything they say to each other so it's best to have either one or the other.
The first difference is the amount of devices which can be wired up. DSI can take 200 whilst DALI has 64. But DALI can control these 64 devices on one control whilst the 200 for DSI need to be monitored individually. Looking for a single fault in a DSI ensemble can be tricky.
A DALI device also allows for status updates so it is easier to monitor the performance of your devices.
Each system will suit a different project, so if you're unsure of which one to choose, make sure you consult with a lighting manufacturer for more information.
Now that you know your DSI's from your DALI's, you can now drop in your thoughts on Lighting Control Systems on your next project or down the local watering hole.
Either DSI or DALI can be selected in our Klik LCM system. Find out more about how these systems can benefit your next project
here.