Consultancy. Today and in the future.
Consultants play a big part in helping a building come to life but how is their industry shaping up and what does the future hold for consultancy in the electrical world? We spoke to David Warner from Sine Consultants to find out more.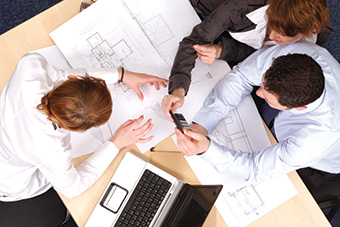 A building is more than just bricks and mortar. Entwined in its infrastructure are devices which make the building work. The hard work carried out by consultants in designing a new building helps to create a perfect ecosystem which fulfils their client's needs.
We wanted to find out how the industry is currently shaping up for consultants, what challenges are they facing and if their roles will change in the years to come? We spoke to David Warner, Associate Director at
Sine Consultants
, a Mechanical and Electrical Design Consultancy firm based in Durham, to find out more about the world of consultancy today, and tomorrow's world of consultancy.
What interested you in becoming a consultant?
I was intrigued by the design aspect and thought it would be more of an imaginative challenge for me. I also liked the site side of project management. I undertook a project management apprenticeship at Haden Young, a national M&E contractor that was part of the BICC Group (now merged in to BB Engineering), working on a number of major projects alongside large consultancies such as Mott MacDonald and RW Gregory, before deciding to become a consultant myself.
How would you describe your role to the everyday person?
Everyone knows what an architect or a structural engineer is, but an everyday person will look at you blankly when you say 'building services consultant'. What do we do?
We make buildings work and bring them to life.
A building can look great architecturally but if it doesn't provide a comfortable, well serviced and user friendly environment, then it will never be deemed a success.
As a consultant, what are you striving to achieve?
To ensure we are always moving forward, adapting to new technology, being as thorough as possible regardless of time constraints and providing the best service we can. Most of all I we try to make sure people want to work with us.
Business is about building trust and relationships, and above all honesty.
 Be flexible, honest and helpful and people will want to work with you
How do you see the current landscape for consultants?
There is a lot of uncertainty at present.
However, I'm fairly positive on the whole
and quite motivated by the drive towards the higher more advanced technologies that we are seeing in enter the industry.
What type of projects are you specifying for the most at the moment?
We have a lot of repeat business, both in design and build and traditional. So we get a good mix of projects.  We have a lot of experience in the healthcare sector, particularly for mental health and hospice facilities.
We also have seen a large growth in student accommodation projects in the region and we have been at the forefront of that. Long gone are the days of students accepting second rate living facilities.
Now there is focus towards a high end aesthetic and comfort, communications and security
which means they are very well serviced. Our Union Square project has won North East & Newcastle Student Hall of the Year at the NESHA awards for the last two years, and the services in the building were a big part behind that success.
What developments in technology are getting you the most excited?
Of course the buzz word we all hear is
BIM
. We have seen a big change in the last year, from the way things have always been done, to being able to see fully serviced buildings in 3D before there is even a spade in the ground. This opens up many opportunities for the future, for example, integrated calculation packages, better visualisations and virtual reality tours of proposed buildings. These will become important tools in the near future. 
The
Internet of Things
and integration of wireless technologies are changing the game electrically, alongside the flexibility that
LED lighting
has brought, allowing for more interesting designs with greater flexibility than ever before.
What challenges do you and the industry face?
Keeping up with change is a challenge, but you have to evolve and not be afraid to invest. It takes a lot of investment for smaller practices like ourselves to stay ahead of the game, but if you don't then you will close the door on a lot of work in the future.
The industry also needs to increase its presence in the labour market and make it an attractive option to school leavers if we are going to produce the engineers needed required to shape the future.
What are your predictions for the future? How do you think your role and the industry will look in the next decade?
Technology will play an ever increasing role in building design as design packages become more integrated. 
We will become more reliant on front end design and co-ordination
, which presents its own set of challenges. 
I do think there is a risk of important skills being lost with increased technology, and an over reliance on building models leading to its own set of issues, but overall you have to get on board with the changes we face if you wish to thrive. 
The most important factor in design will still be the people behind the design. Understanding your clients needs and interacting with people in a positive and helpful manner won't be replaced in the near future by technology.