Breaking the myths of building automation and KNX
Building automation is an industry hot topic right now, but some still have their doubts. Hager's Technical Support Engineer Matt Price helps to dis-spell some of the myths surroundings building automation and KNX.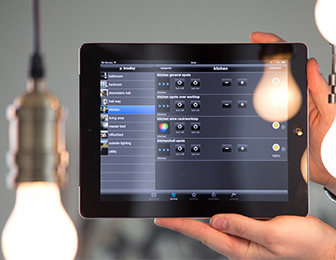 Building automation is an industry hot topic right now. Despite a growing trend to install these systems, such as KNX, some still have their doubts about the costs, functionality and how practical a system like KNX is to use.
In short, building automation can control a buildings infrastructure such as the lighting, heating, ventilation and entertainment systems. The technology has the potential to provide a service which learns and adapts to a users habits. There are some truly
exciting possibilities to building automation.
Matt Price, Technical Support Engineer at Hager, answers some of the myths surrounding building automation and KNX.
Myth - Building automation is expensive to purchase and install
"The benefits of building automation are its functionality and flexibility. These type of systems can be fitted in a variety of projects, and they can be up-scaled as and when a building expands.
The end user will not only benefit from this flexibility, but also from the energy savings these systems provide through the intelligent control of their energy such as heating and electricity, helping to reduce and save costs over the long term.
As an installer, you will benefit from enhancing your business reputation by putting the needs of your customer first with the advantages of convenience and cost savings that the system will provide them in the long term."
Myth - Building automation is a complicated system to use
"Installing and operating a building automation system is easier than you think. So much so that we offer a free one-day training course on our Tebis KNX offer.
The course explains how you can design, install and commission bus systems for commercial and domestic installations and gives you an opportunity to get some hands on experience.
Find out more about the course and how to sign up here."
Myth - KNX is a system which will be out of date in a few years
"KNX is an open protocol managed by the KNX organisation and has been around for over 20 years. This system continues to evolve and won't be disappearing any time soon.
We will continue to evolve our offer as KNX and building automation technology enhances in the years to come."
Myth - I will always need to rely on someone to come to do any remedial works when things go wrong or need changing.
"We can provide tools for the installer to empower them to do any of the remedial works themselves. Our 'easy' tool does just this and can be purchased alongside our building automation offer."
Myth - There will be lots of hidden costs.
"Commissioning and installing the right products is best practice for both the installer and customer.
We will work closely with the installer to help make sure they're confident with installing and commissioning the system they have been requested to fit. We will also meet with the client to discuss their needs so the right products are chosen for them, ensuring that no products which could help fulfil their needs are missed.
A charge can be made for commissioning if the installer wishes not to be part of this process. However, by carrying out this process, both the installer and the customer will know what they will be getting and how it will benefit them."
Matt Price recently spoke about the opportunities building automation can bring to the industry and how electricians should get on board. You can read what he had to say
here.