All you need to know about Power over Ethernet
Power your devices just by using one cable? Power over Ethernet is making that a reality. David Evans explains what you need to know about PoE.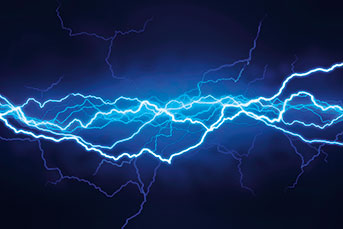 It might sound like something that you might find in the latest Marvel adventure, but rest assured, this revolutionary way of powering devices in your building is one to keep an eye on.
Businesses now require an array of devices to meet their corporate needs and designers have to take these into account when putting together the specification.
A simple solution could be on hand to help make the work for everyone who is involved a whole lot easier.
So, how does it work?
Firstly, the Power over Ethernet (PoE) works on IP connected devices. Take an IP security camera for example. Normally this camera will have a power cable to provide the electricity and a network cable to share its data. Through the use of Power over Ethernet, the electricity to power the device will go through the network cable, meaning that only one cable will be required.
What makes this sound better is that the network cables used are standard 'cat 5'. The same ones that you would plug into your router at home.
How could this benefit my project?

Whilst not yet perfected, Power over Ethernet has many benefits for your future endeavour.

• Save time and money – With no power cable required, engineers will have less time to implement miles of cabling throughout a building. Costs for extra wiring will be gone, plans for additional electrical infrastructure wont be needed and according to Activo, energy costs will also be lowered.

• Flexibility – PoE gives you the opportunity to place devices in the most hard to reach places. Imagine a Wi-Fi router which may be hidden within a ceiling. Power cables wont need to be scaled through the walls to reach the device. All you need to do is click in the network cable and away you go.

• Scalability – Less reliance on power cables means that network cabling can be easily scaled up through a building as it expands without the pain of integrating more cables at the same time.

• Monitoring – Imagine all of the lights in your building are powered by Power over Ethernet. With all the lights connected, they will have their own IP address. Meaning that you can control and manage each individual light through a building management or smartphone application.
That sounds great. Where do I get started?
Slow down there. Although the possibilities are exciting, only small electronics that don't require a lot of electricity can benefit at the moment. We may be waiting a while before larger products are able to feel the force of the Power of Ethernet but keep your eyes peeled.
Hager is already embracing Power over Ethernet
Power over Ethernet has already been integrated into Hager products so you can take advantage of the different benefits it provides.
Our
Klik 7 Pin Lighting Control Module
uses Ethernet cables to power additional devices such as occupancy sensors. For the future, Klik's lighting module could power an array of devices through Ethernet cables alone.
What could the future look like for Power over Ethernet?
The relationship between lighting and construction could change over the next few years.
We asked Steve Dyson, Commercial Product Manager for Hager, where he sees the Power of Ethernet in the next few years –
"Although for many installations standard mains luminaries (whether LED or not) will still see a large demand for both new build and retrofit projects. Low power (DC) lighting systems are already available, and for some applications this is a good option. I am sure that the use of Ethernet to not only to provide the vehicle to control but power light fittings will become more common over the next 5 years".