Absence and Presence. What's the difference?
Absence and presence detectors offer different solutions, but what's the difference? We explain what you need to know.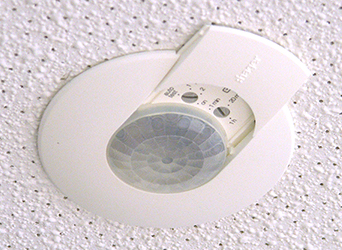 With rising energy costs, there is further pressure for businesses and facilities managers to find ways to reduce the amount they spend on their building energy services and create efficient solutions.
According to research from the Chartered Institute of Building Services Engineers (CIBSE),
32% of energy in offices comes from lighting
. So with over a quarter of your energy consumption based on one function, it is vital to find ways of making this a cost effective service.
The need for energy efficiencies in lighting control is becoming a growing trend within the electrical industry. From specification to install, buildings now need to be built to suit lighting controls rather than the other way around.
A way in which facilities managers can save money is through lighting control systems, and specifically through absence and presence detectors.
Absence and presence detectors differ to 'Motion' detectors as they are designed for picking up smaller movements, such as someone working at a desk. A motion detector is designed to detect movement in areas such as a corridor or a stairway.
Absence and presence detectors can manually or automatically turn on or off the lighting in a room depending on the user's preference and the type of detection you have in place.
So, what's the difference?
Presence
• Presence detectors will turn on automatically when the sensor picks up someone entering the room
• The sensor will then automatically switch off after a set period when no movement is detected
Absence
• The lighting has to be manually switched onby the user, rather than automatically, through detection
• However, lighting is automatically turned off when leaving the room. The lights can also be turned off manually at the switch if preferred
In both cases the occupancy sensors use something called 'PIR', short for 'Passive Infrared'. These sensors detect the heat emitted by the occupant when entering a room and turn off when this is reduced.
More advanced occupancy sensors utilise photocells photocells. These cells take into account the amount of natural light streaming into a room, and can switch lighting off or dim it down (if there are digital ballasts) when they can detect enough natural light in a room. A useful energy saving feature for buildings such as offices, which can receive a good amount of natural light.
Occupancy sensors can provide a great degree of potential energy saving for different parts of an office building. For example, corridors and storage rooms can benefit from a
potential energy saving of between 30-80% whilst toilet areas could save up to 90%
By fitting occupancy sensors, you could show your next client the seamless service these sensors can provide. Along with the amount of energy they could save in certain parts of their building. And how they could use this saving to invest in other energy demanding areas, or to help combat the cost of peak usage times such as the autumn and winter periods.
Here at Hager, we provide a range of occupancy sensing solutions, with occupancy sensors suitable for a variety of applications such as healthcare, offices and schools.
Furthermore, Klik LCM is a pluggable lighting control module with individually configurable and dimmable outputs for analogue or digital luminaires. During installation the system has proven to bring a 70% reduction in installation and commissioning time when compared to the installation of fixed wiring.
Available with absence and presence sensors, we also include an integral lux sensor. These sensors can be programmed to dim or switch off luminaires to a pre-set lux level should there be sufficient natural light available. Find out more
here
Our occupancy sensors have recently benefited projects in Aylesbury, Hartlepool and Stockton which have been combined with our Klik LCM solution.
You can find out more about how our solutions benefited this project
here