A detailed look at the current residential housing market
Hager's Darren Palmer assesses the current landscape of the residential housing market.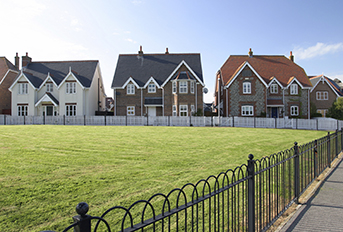 'Housing and Property'. That seemingly constant stream of news stories that flow from its source is almost ingrained into the national psyche of the UK. Be it affordability to first time buyers, there is a disproportionate amount of media coverage and general discussion being given to the subject of housing.
The residential sector is also a rich source of work, revenue and opportunity for those in the electrical industry so an analysis of the UK market and its dynamics is a relevant topic to explore further.
Affordability is of course problematic at the moment, with house prices in some areas growing beyond the reach of large swathes of its population.
According to
HBF
, the average house price to salary ratio in England is 6.7 x salary which is indicative of the financial hurdles people face who aspire to own their own home. This has led to a rising number of young renters - 'Generation Rent', who simply cannot afford to buy. A
recent report by the Resolution Foundation
found that home ownership in England is now 64% which is down from a peak of 71% in 2003.
Further evidence of this is the burgeoning nature of the so called PRS (Private Rental Sector). There are now even upscale institutional investors, such as foreign pension funds, willing and able to invest money into new UK PRS residential projects that are exclusively for rent. This means that investors get a quicker return on investment by letting property rather than the time needed to sell property on the open market.
Public housing has been woefully undersupplied for a number of years and
CPA (subscription required)
industry reports indicate that there will be negative growth in this sector until 2019. The announcement that rents for public housing tenants will reduce by 1% a year for four years from April 1st 2016 has restricted and halted potential projects and investment. Another negative contributor has been the disposing of units via the 'right-to-buy' scheme because a very small percentage of those sold have actually been replaced.
In terms of output data for UK housing, it is estimated that to meet long term demand 220,000-250,000 homes per year will be needed (source: HBF). Over recent years the supply of homes has been running at approximately 140,000-160,000 per year so the shortfall is fairly easy to identify. In fact, according to the
NHBC
, the last time UK house building achieved more than 200,000 homes in a year was back in 1988.
The Governments 'Help to buy' scheme is enabling those who qualify a chance to become home owners via a financial contribution to the deposit; this is also a boost for large house builders who suggest that those taking part in help to buy account for approx. 30-35% of their total sales.
In their August meeting, the MPC (Monetary Policy Committee) voted to reduce the interest rate from an already record low of 0.5% down to 0.25%. Given the current strong underlying demand for UK housing and the low cost of borrowing, it is not easy to see any immediate let up in the frantic UK housing market.
However, there are some negative pressures like uncertainty following the Brexit vote and an assumption of there being constant easy access to affordable mortgage finance. Also, the fact that the residential market in the UK is often noted as being cyclical in nature with boom and bust patterns dominating the past decades. Customer sentiment is also a key driver of the housing market, therefore if unemployment starts to rise and fears grow of more job losses then the housing market could cool off and show signs of becoming more restrained.