A day in the life with a Hager Sales Engineer
There is never a 'typical' day at Hager. We spent a few hours with Simon Parker, Sales and Specifications Manager at Hager, to find out more.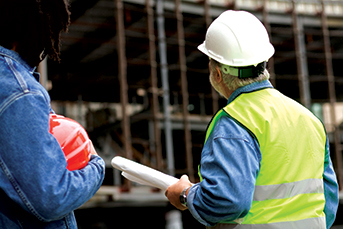 Throughout the country Hager has a team of Sales Engineers who go up and down the British Isles to help our customers make the most of their latest projects with our products and solutions.
Our Sales and Specification Engineers don't do a 'typical day', as they help an array of customers in different scenarios.
So how do Hager help our customers on a day to day basis? David Evans went on the road with Sales and Specifications Manager Simon Parker to find out more.
9.00am
We arrive at a wholesaler just a few miles away from Stadium MK.
After a quick catch up on how their business is doing, Simon discusses the latest product innovations Hager has to offer and asks if there are any issues they may be having which he can help with. With everything rosey, Simon and I prepare to get back on the road.
Whilst they discuss what plans the wholesaler has for the next few weeks, I notice a customer pop in to buy a series of Hager
Junction Boxes.
It's just after 9am and Hager products are already off the shelves.
10.00am
In between our next visit, we decide to take a pit stop.
Simon catches up with emails that have been coming in during the morning and helps to answer customer and colleague queries and concerns.
A cup of tea, a chat about previous visits to Stadium MK (both as away fans and wins!) and we're on the road to visit a unique project…
11.00am
Driving through a redeveloped industrial estate, we pull into the car park of a warehouse in the middle of a refurbishment.
Putting on our necessary PPE safety gear, we get shown around the redevelopment of two warehouse units.
Through contact with a local wholesaler, Simon has been invited to come along to see what range of Hager products, such as our
Invicta 3 Panelboards
, could be installed into the facilities to help meet the needs and requirements of the building and the project.
When looking around Simon and I notice that Hager products have been used on the site previously. Simon takes notes, looks at what they currently have and offers help and advice on what they could install in the future and the next steps they need to take.
1.00pm
Time for a spot of lunch, sandwiches and crisps at the ready.
2.00pm
Back to it and 15 minutes later we're stopping at a local wholesaler next to a busy mini high street.
After a quick catch up, Simon is on hand to help with a couple of sales queries and discuss the benefits of the
latest products Hager have released.
Just as we're set to leave, Simon pops his head around the door to the office of one of the co-owners for a brief catch up.
When we get back in the car and start the journey to our next visit, Simon talks about how those conversations are one of the reasons why he loves the job,
"There are a variety of customers you meet. Not one day is the same. Take the person I've just spoken to. By day he's working at an electrical wholesaler, by night he's a punk rocker. You get to meet a range of people, each one bringing their own unique knowledge or skillset to the industry which you can learn from and tap into."
While we're chatting, I ask Simon about what products customers are talking about when he meets up with them. He said
"Our Design range of consumer units are one of our most popular products right now. They really like how easy it is to install and its aesthetics."
3.00pm
Just as we finish chatting, we arrive at our next destination.
Lucy's is a street lighting company based in Milton Keynes and has enjoyed a long last relationship with Hager. Lucy's specifies our products first in their upcoming work.
A big smile and a cup of tea greet us at the door as Simon catches up on how their latest projects are getting on and how Hager can help them going forward.
Simon provides them with some help on how to access product information on our website following a quick technical query.
4.00pm
With the meeting adjourned, my day with Simon is complete. Simon departs with a couple more customers to see before his day comes to an end.
Find out the contact details of your local Hager Sales and Specification Team member and see how they can help you
here.