6 creative ways you can promote wiring accessories
Adding a variety of wiring accessories can enhance the electrical experience for your client. We discuss how you can up-sell wiring accessories on your next project to the benefit for your client.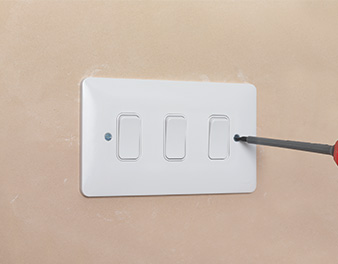 The right wiring accessories can help complement the style of a home. With more devices and electrical products used in everyday life, the need for modern wiring accessories with enhanced connectivity is continually growing.
More than 30 years ago a bedroom would only have had a single socket. Now, a homeowner would expect double the amount on each side of the bed.
Clients may be apprehensive to fit further wiring accessories in their home but there are ways you can promote the benefits of enhanced wiring solutions into their latest project.
1. Push it real good
When you hold a socket or switch for the first time, what do you do?
Constantly clicking the switch back and forth is just human nature. As strange as it may be, feeling how easily or firmly a switch can click back and forth could influence whether a client decides to choose that particular product.
Choosing a product which has a rocker that is easy to click, has a solid pushback and holds into place are some of the attributes you can promote to a client as a sign of quality.
Our
White Moulded wiring accessories
from our Sollysta range do just that. They have a solid click which provides a positive confirmation that you have completed the switching action. Find out more
here.
2. Extension Leads
With more electrical products filling our homes, there needs to be space for each appliance or device to have its own power source.
Extension leads may help power multiple sockets in a small space, but there is a hidden danger. Depending on the voltage of a product, overloading an extension lead can result in a fire and cause disastrous consequences. See for yourself by trying the 'Socket Overload Calculator' from Electrical Safety first
here.
Adding additional singular and double sockets will help remove this danger. Discussing with your client the important safety benefits of sockets against extension leads will show how you have their wellbeing first.
Additionally, more sockets can provide additional control as individual devices can be switched off when not needed helping to save money.
3. Quality
Your client will want to make sure that they have a product which is built with quality in mind. You will want to make sure that the socket works correctly and does its job in the long term.
Our range of
Sollysta wiring accessories
have a lifetime* guarantee so you can rest assured that our complete range of wiring accessories will do their job for years to come.
4. Style with substance
First impressions count. Each person will have their own preference on the style they wish to use but you need to talk up the stylish features of the product you wish to install.
Wiring accessories can come in different designs so you need to highlight the finishes, shape and texture of the accessory. The switches or sockets have got to blend in and feel part of the room.
For example, our
Sollysta Decorative range
show their style by being available in premium quality faceplates, such as polished steel, polished brass, black nickel and brushed steel in both raised and flat plate designs. This style is backed up by the quality inside, Sollysta comes with numerous features to benefit the installer such as; the unique neutral loop terminal on switches, a patented safety shutter system, cable lead-ins and captive backed off screws.
Find out more about the benefits of our Sollysta range
here.
5. Other applications
Wiring accessories are usually associated with a domestic or commercial application such as a home or an office. However, our Sollysta range is perfect for a wide range of applications.
For example, our
Part M range
has been designed to satisfy Building Regulations Document M and comes with wide rockers and dark face plates for clear visibility. These unique faceplates would be ideal in applications such as hospitals, retirement homes and supported housing.
Need to fit some sockets outdoors? Our
IP66 range
is made from a tough, durable thermoplastic and is perfect for outdoor applications where a socket may be vulnerable to the elements.
Lastly our
Metalclad range
, available in both white and grey and are perfect for those high traffic environments such as schools or even industrial premises.
6. Beyond the wiring accessory
There are different points to think about beyond a switch or a socket, that can enhance a project even further.
RJ45 sockets
are perfect for home networking. With the huge growth in Smart TV's , games consoles and satellite boxes all relying on internet connectivity, these sockets are becoming even more important and can really help to tidy things up whilst providing the fastest most secure network access around the house.
A client's lounge will be filled with many outlets servicing different requirements such as TV, phone and satellite capabilities. Stretched across the room they will need to all join up in one place, which sometimes causes stray and untidy wires. Our
Lounge Plates
allow for multiple modules to be grouped together, saving space and providing a tidy finish in the home.
*20 years.