5 things we learned at ELEX in Harrogate
We recently attended the Elex show in Harrogate. What did we learn? David Evans explains the five things we found out...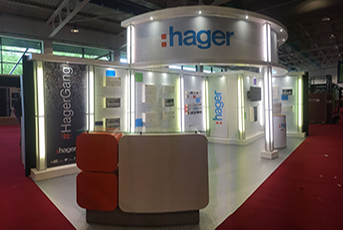 Last month Hager dropped anchor at the
ELEX exhibition
in Harrogate with the opportunity to meet a variety of visitors from the area to talk all things electrical.
ELEX
is a touring exhibition which provides a range of businesses, contractors and electricians a chance to see the latest innovations, try out new products and gain key insight into industry developments.
Our stand was positioned perfectly with our bright lights (you couldn't miss us!) and after speaking to hundreds of fantastic visitors we took away some key topics that everyone had been talking about.
So, what did we learn? Here's 5 things…
1. You love Design 30
Last year we launched the latest addition to our consumer unit range,
Design 30
, and you were loving it!
Many of the visitors to our stand were impressed with our
cable clamp
which helps to prevent any movement of meter tails being transmitted to the terminals of the main switch. You'll be pleased to hear that cable clamps come as standard with Design 30.
Visitors were also impressed with the aesthetically pleasing front cover and
cable protection plates
, designed to provide a quick install when bringing in cables into the rear of the board.
These plates can also be used on installations where you decide that you want to use rear cable entry and use fire putty to seal up the aperture in the rear of the board after the cables are installed. By cutting out only the detachable sections you require you can then easily and neatly apply a layer of putty directly to the cable entry plate.
Want to find out more about Design 30? Click
here.
2.'U Should Bring' out USB Sockets
One of the biggest questions we were asked were about USB sockets.
Visitors told us how they like fitting our range of wiring accessories due to their easy install and crisp design but they would love to fit USB versions.
Well we have listened and your wish shall be granted. Stay tuned with Hager as our USB sockets will be available in the coming months.
3. Square v round knockouts
One of the opinions we wanted to gauge with visitors was their thoughts on square and round knockouts. But before we could ask the question, visitors were quick to ask us why we fitted square compared to round?
Here at Hager we believe that square knockouts provide the best solutions when installing a consumer unit in a residential application. Square knockouts have been fitted to help make installations simpler, if not easier, than previous consumer units.
Residential Marketing Manager Steve York, who was at the event, explains why:
"When designing the metal consumer unit, we went out and spoke with our customers about how they bring cables into the boards. In residential applications the installers wanted to carry on using mini trunking, so we decided to place rectangular knockouts situated at the rear of the board to facilitate this type of installation."
4. Time to 'Flush'
One of the other most popular products on our stand was our
new Flush Design 10 consumer unit.
Many visitors were asking about the benefits of our board and we were of course, happy to demonstrate.
A key feature of the Design 10 Flush is the ability to install the back box first before moving onto the front assembly. This helps to remove the risk of devices and terminations becoming contaminated with building materials or being damaged. 
Interested to hear more? Discover why Design 10 Flush is perfect for your next installation
here.
5. Full Metal Jacket
At every ELEX show, our colleague Steve York takes part in IET forums. A chance to provide visitors with the latest advice and tips in the electrical world.
One of the most popular forums at the event was 'Full Metal Jacket'. A Q&A seminar designed to provide the answers to the burning questions visitors had on Amendment 3 of the wiring regulations and the installation of metal consumer units.
Steve was on hand to answer an array of queries and concerns on the changes and how Hager's products have been designed with these changes in mind. We even live streamed these sessions on Periscope which you can re-watch on our
twitter channel.
We have put together a series guides to cut straight to the point on Amendment 3 with
'MythBreakers'
. Get the answer to your Amendment 3 queries
here.