5 things we learned at the ELEX Show in Exeter
We headed down to Exeter for the third Elex Show of 2017. Here's five things we learned at the event.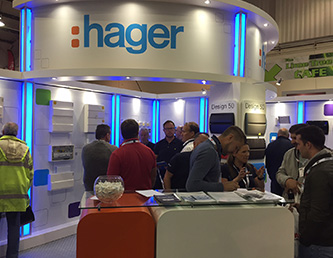 Toward the end of April we journeyed South West and set up for the Elex Show at the WestPoint Centre in Exeter.
Elex is a touring exhibition which provides a range of businesses, including electricians and wholesalers the chance to see the latest and greatest from the electrical industry, try out new products and gain key insight into industry developments.
A busy couple of days in Exeter gave us a chance to meet a whole host of people and learn more about your views on the industry.
Here are five things we learned:
1. Design 50
Since displaying our new consumer unit at Elex last October, you have been wowed by the various colours and designs that Design 50 can offer.
Launched in November 2016, Design 50 is the latest consumer unit from our 'Design' range. One of the things that set it apart from the rest is the ability to have the board in any RAL colour, painted in up to five anodised effects or be vinyl wrapped in any customer design.
You can choose your preferred style with Design 50. Find out more
here.
2. Lighting up the night with LEDs
With LED lighting being a hot topic in the industry, there was a lot of interest shown from the Exeter visitors at our latest offering.
Our LED Lamp and LED Floodlight both come with integral PIR sensors and provide a reliable service under adverse weather conditions thanks to their high IP55 protection rating. They can also be set at convenience via a remote control (EE806), helping you or your customer to adjust the lights to the ideal requirements.
Find out more
here.
3. USB Sockets
The Elex Show in Exeter was our first show since the launch of our Sollysta Twin USB Socket.
With visitors already commenting on their fondness for our Sollysta range of wiring accessories, guests were drawn to the latest addition to our range.
A key benefit of our Sollysta Twin USB Socket is its in-built intelligent connection which allows the socket to talk back to the device and act as its primary charger. This allows for maximum charging capacity, rather than a slower trickle charge.
See how you can charge your clients world
here.
4. 18th Edition is coming…
The latest revision of the IET wiring regulations is starting to cross people's minds and initial questions were being asked about what could be included.
Here at Hager we're getting ready for the 18th Edition and we will be here every step of the way to help you to understand the changes and what it means to you.
Keep an eye on
hager.co.uk
and
@hageruk
on Twitter over the coming months.
5. Why it's hip to be square
One of the questions we were asked during our visit to the Elex Show was our use of square knockouts against round.
Here at Hager we believe that square knockouts provide the best solutions when installing a consumer unit in a residential application.
Square knockouts have been fitted to help make installations simpler than in previous consumer units.
Residential Marketing Manager Steve York explains why:
"When designing the metal consumer unit, we went out and spoke with our customers about how they bring cables into the boards. In residential applications the installers wanted to carry on using mini trunking, so we decided to place rectangular knockouts situated at the rear of the board to facilitate this type of installation."
You can find out more about why we use square to round knockouts in our blog
here.