5 things we learned at ELEX in Coventry
We recently attended the Elex show in Coventry. What did we learn? David Evans explains the five things we found out...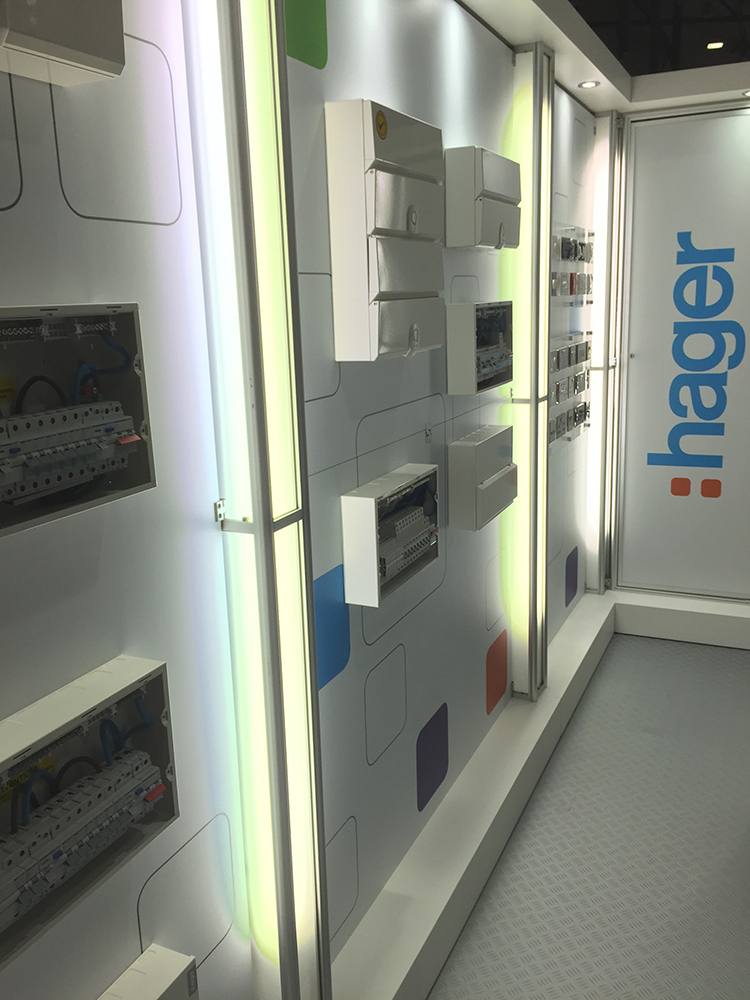 Last month Hager continued their ELEX exhibition tour with the next date at the Ricoh Arena in Coventry.
It was a great opportunity for us to meet a variety of visitors from the area and to find out what their latest projects were.
ELEX
is a touring exhibition which provides a range of businesses, contractors and electricians a chance to see the latest innovations, try out new products and gain key insight into industry developments.
After a busy couple of days chatting and learning from all those who visited our stand, there were a few things, in particular 5, that we learned from the event.
1. Something is coming…
At the event we showcased the concept for a new product we're launching in the next few weeks.
It was safe to say that the solution we teased was incredibly popular, with some visitors even trying to put orders in there and then!
What was on offer? Well, you will have to wait. Make sure you check back to our
website
and
twitter channel
during October to find out more…
2. Torque settings
A popular question posed to us over the two days were about torque settings.
How tight you make a connection when fitting a unit is more important than you think. If a connection is too rigid or tight it can create an effect to your unit.
How can you make sure that your next connection is the right one? Our blog provides you with
all the answers you need.
You can find the full list of torque settings for our products in our instruction manuals, and our literature as well as on our website
here.
3. Installing the Flush
Everyone was telling us how impressed they were with the easy installation process for our Flush Design 10.
Before we start blushing, you might be ask why this was a universal opinion?
Well one of the unique installation features of our Flush Design 10 is the ability for the back box to be installed as a first fix, whilst the terminals and devices can be easily removed to prevent contamination from building materials.
Our Flush Design 10 can also be adjusted via flanges and sit on the finished surface of the wall. Helping to ensure that they always protrude through the front cover a uniform amount.
Don't just take our written words for it. Watch how easy it is the install a Flush Design 10 on the video below:
4. Locked in with the Cable Clamp
One of the features of our Design 30 board which was getting a lot of attention at our stand was the built in cable clamp
(available as an accessory for Design 10).
The more we spoke to contractors about the cable clamp, the more people who bought into the benefits of our device.
Cable clamps are installed above the main switch and prevent any movement of meter tails from being transmitted to the terminals of this device.
How do you install a cable clamp? Watch our video
here.
5. Amendment 3 got you in a spin
Many of the questions we were asked at the Ricoh Arena were about changes to Amendment 3 of the wiring regulations.
How to be compliant with Amendment 3 and the use of glanding and intumescent seals were just some of the re-occurring queries we were happy to help answer.
As a hot topic that was well discussed at
our visit to ELEX Harrogate
, Hager colleagues Paul Collins and Steve York were on hand at a special IET Forum called 'Full Metal Jacket' to help answer visitors queries and concerns on Amendment 3.
So what do you need to know about Amendment 3? Here are some key points:
• The change is only to the material that the enclosure is made from
• Changes to Amendment 3 of the wiring regulations state that the enclosure must be made from a non-combustible material
• How you prepare and install the board is still the same
Still got a question about Amendment 3? Then check out
'MythBreakers'
. A series of videos we have created especially on the big questions you have on these changes.
Find out more
here.