5 reasons why you need to tap into the Hager Gang
Our social media community #HagerGang is growing by the day. We explain why you need to tap into their potential.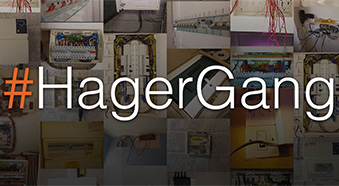 Over on Twitter there is a group, which are installing quality products, building a community, sharing ideas and offering helpful advice to fellow professionals.
This community is called #HagerGang. Whether they're installing Hager for the first time or they are regularly installing our solutions, everyone who shares their Hager installation with our
Twitter channel
becomes part of this unique club.
The group, which boasts some of the brightest and best electricians in the country, are promoting their quality workmanship and pride in the industry for all to see.
The number of #HagerGang members continues to grow by the day. So why do members of the #HagerGang love installing our products and why do you need to be involved with this unique group? Here's 5 reasons:
1. Ease of installation
When we design our latest and greatest products, we always have the installer in mind. We want to make sure their installation goes as quickly and easily as possible and this is reflected in what we create.
Our #HagerGang members don't just work in domestic projects but love to install Hager in commercial and industrial applications too. Our range of
Invicta 3 TPN
and Tri-load boards are perfect for energy distribution for large projects.
Our
enhanced metering and meter board range
for example comes with the benefit of automatically detecting whether the configuration needs to be Pulsed or Modbus, which enables straightforward integration into either a data logger or a building management system, saving installers time on site.
Especially with our
TP&N Power, Lighting and Services Board
, there is no requirement to assemble on site, so the board is ready to be installed straight away.
Our
Design range of consumer units, including our latest offering Design 50
, offers numerous features such as amble cable space, a full metal DIN rail, top, bottom and rear knockouts and multiple fixing points so that it can be accurately fixed to the wall. It doesn't stop with our consumer units either. Our wide range of
Sollysta wiring accessories
all come with the same beneficial installation features. For example, our time saving
neutral loop terminal
to help make connections at the wall rather than the ceiling rose and moulded lead-ins to help guide the drive blade to the screw head.
2. Adding style
It not just about what it does on the inside, it's also about how it looks on the outside. Our products have style as well as substance.
Our range of TP&N and Panel boards are available with a glazed door, allowing the client to see the board without the need to gain access whilst providing a great looking finish. Amendment 3 compliant doors can also be purchased as an accessory.
Our latest consumer unit,
Design 50
, comes with sleek lines and curves and provides a stylish finish. By sitting flush to the wall, it blends into any home. Additionally Design 50 can be painted in any RAL colour, finished with one of 5 different anodised effects or vinyl wrapped in any custom design.
Our
Sollysta Decorative range
is available in four different faceplate finishes (polished steel, polished brass, black nickel and brushed steel) and are available in both flat and raised plate options, giving architects and end users the choice to add more style and sophistication to their project.
3. Working with you
We're always listening to our customers about the issues they face and what they would like to see next. For example, our #HagerGang members are regularly consulted for their advice on areas we want to improve such as our next generation of label packs for consumer units. Having our audience help create the tools they will be using every day.
Our
Engineered Solutions service
also works with consultants and contractors to provide a range of engineered services from pre-assembled distribution units to on-demand turnkey system packages.
Our service helps to provide a product which meets their needs whilst helping to reduce the installation time for contractors on site, meaning projects can be completed quicker and easier.
4. Not just for the install
The #HagerGang has been created not to just share the latest installations, but also as a hub to share advice and tips.
This online community is a great way to gather feedback directly. In real time we are able to constantly learn more about the challenges faced by our customers but also what they want to see from our products. This invaluable feedback helps us to shape the solutions and content we create.
5. Debating the stories that matter to you
Our #HagerGang members have helped to inspire our blog
'Circuit Break'.
Circuit Break
is a place where you can read the latest news, opinions and debates on the industry. Writers from Hager and thought leaders from our industry discuss the topics that matter to you.
Circuit Break is open to all and we encourage anyone to share their tips, thoughts and best practice.
Our customers and #HagerGang members inspire the pieces we create. So much in fact that our #HagerGang members write their own series called the
'#HagerGang Forum'
. This forum provides our members with a platform to share their knowledge and best practice with others. This series, along with the rest of our blogs, is a great way to learn more and be ahead of the game in what is going on in your industry.
Would you like to be involved? Email info@hager.co.uk and be part of Circuit Break.