Introducing our new automated chatbot...Reg!
Following the publication of the 18th Edition of the IET Wiring Regulations, we have launched an industry-first automated chatbot to support electrical professionals with the revised regulations.

As part of our wider 'Regs Live' programme, Reg will provide a source of expert information; answering any questions you may have to help keep you up-to-speed with all things 18th Edition-related.
Here to help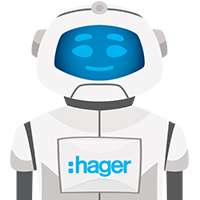 What is Reg?
Reg is the electrical industry's first automated chatbot, here to talk all things 18th Edition.

How Does it Work?
Behind the scenes, we've given Reg dozens of potential questions and answers to the most common topics covered in the 18th edition. Users can type in their questions for Reg manually or select one of the preset button prompts at the bottom of the screen to navigate their way through.

What does he know?
Reg's specialist subjects are arc fault detection, surge protection, RCD selection, overload protection and device incorporation. These topics will be presented as buttons on first launching the bot, however new topics are being added to Reg all the time. Whenever there are gaps in his knowledge, we try to fill those gaps!
Contacting him is easy
Simply visit the Hager 'Regs Live' Facebook page and just send a message to begin a chat. Easy, convenient and straightforward.
Let's get chatting today. Visit
facebook.com/HagerRegsLive
Click the link to the right to go straight to the Facebook Messenger page.

Reg At a Glance Flyer