The Hager Academy
Hager Academy is a place where contractors and customers can develop their skills by taking expert courses while receiving hands on training. In addition to training courses where individuals are able to learn a new skills-set, Hager Academy is also a resource for those who want to build on their education and expand their knowledge in a certain area. More than just a venue, the Academy was created as an institution, to help develop the knowledge of the electrical industry for years to come.

Designed to provide a warm welcome, the Academy opens up into a spacious foyer where there is a fully stocked fridge and a variety of refreshments available. In addition, lunches are also served and can be made to accommodate any dietary preferences. The Hager Academy occupies an entirely renovated 600 square foot space equipped with the latest in learning technology. With a contemporary design and power outlets installed at each work space, the Academy offers the ideal learning environment.

By having the ability to use the products in its intended form, attendees are able to receive hands-on training that allows them to fully experience the applications of each product.

The Facilities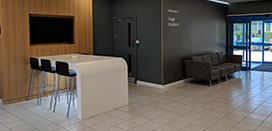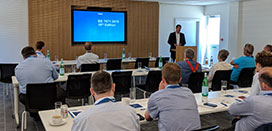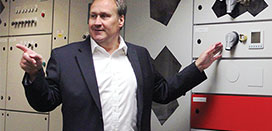 The Foyer
From your first moment on site the foyer provides you with a warm welcome. We've designed and built the perfect environment to take away any stresses you may have had during your journey.

We have fully stocked fridges and a range of espresso's and coffee's making sure you're kept refreshed throughout the day. Lunches are also available at the foyer and don't worry we can cater for your dietary needs.
The Academy
Our refurbished 600 square foot Hager Academy boasts the latest in learning technology, from a 86" full 4k HD interactive display through to each desk being equipped with power outlets, this modern environment is the perfect place to learn.

Using the latest technology we've made your learning experience as comfortable and as inspiring as possible.
Training Stations
Our range of bespoke designed training stations enable trainees to fully experience the hands on applications of each of our products.

By actually using the product in it's intended form our training helps to reinforce the message we're trying to show with outstanding results.
Thing's To See In Telford
If you choose to take part in one of our courses lasting a couple of days, we'll give you the option to take a historic tour of Telford and its surrounding areas.
We'll Take You To

Telford is the birthplace of industry and boasts the UNESCO world heritage site.
It makes a great destination to enhance your training visit to Telford.
To find out more click here

The famous
RAF Cosford base
is just a short drive from Telford and plays host to some of the most impressive planes ever used by the RAF.
Our private tour will let you get up close and personal with some of these legends of the sky.
To find out more click here

Blists Hill
is an open air living museum operated by the Ironbridge Gorge Museum Trust. Here you will see people re-enacting what is was like to live back in the Victorian era.
To find out more click here
Book A Course